Plantation/ Cultivation Packages and Expertise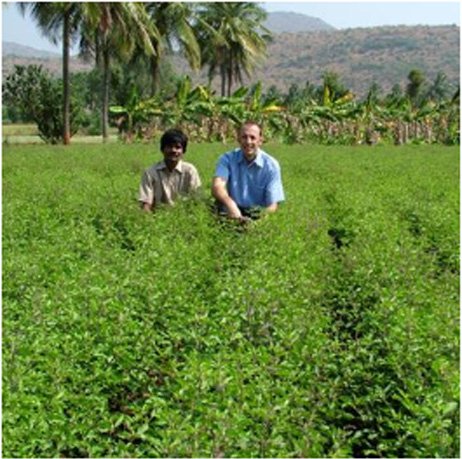 We provide standardized comprehensive cultivation packages for a wide range of crops. As leading cultivation consultant, we provide complete knowledge and skills for below mentioned crops.

List of important crops we offer our clients for cultivation
Medicinal plants (Our Specialty)
Nepali and Desi Satawar (Asparagus racemosus), Sarpgandha (Rauvolfia serpentina), Safed musli (Chlorophytum borivilianum), Akarkara (Anacyclus pyrethrum), Ashwagandha (Withania somnifera), Tulsi (Ocimum sanctum), Van Tulsi (Origanum vulgare), Stevia (Stevia rebaudiana), Kalmegh (Andrographis paniculata), Mandookparni (Centella asiatica), Coleus (Coleus forskohlii), Aloevera (Barbadensis miller sp.), Milk thistle (Silybum marianum), Isabgol (Plantago ovata), Artimicia (Artimicia annua), Kalihari (Gloriosa superba), Sanai (Cassia angustifolia), Bach (Acorus Calamus), Brahmi (Bacopa monnieri), Guggul (Commiphora mukul), Neem (Azadirachta indica), Coriander (Coriandrum sativum), Thyme (Thymus vugaris), Belladonna etc.

Aromatic plants (Our Specialty)
Mints (Mentha sp.), Lemongrass (Cymbopogon flexuosus), Citronella (Cymbopogon winterianus), Palmarosa (Cymbopogon martinii), Vetiver (Vetiveria zizanioideas), Indian basil (Ocimum basilicum), French basil (Ocimum sanctum), Patchouli (Pogostemon patchouli), Rose (Rosa damascene), Geranium (Pelargonium graveolens), Marigold (Calendula Officinalis), African marigold (Tagetes minuta), Rosemary (Rosmarinus officinalis), Chamomile (Matricaria recutita), Jasmine (Jasminum grandiflorum) etc.

Spices (Our Specialty)
Chili, Pepper, Ginger, Garlic, Turmeric, Onion, Asafoetida (Heeng), Cardamom, Black Cumin, Indian Bay leaf, Cinnamon, Clove, Coriander, Fenugreek (Kasuri Methi), Kalongi/ Black Seed, Nutmeg etc.

Horticulture crops
Papaya (Red lady), Banana (tissue culture, G9), Guava, Mango, Litchi, Citrus, Water melon, Musk melon, Pomegranate, etc.

Vegetable crops
Tomato, Potato, Brinjal, Capsicum, Broccoli, Cauliflower, Cabbage, Bottle gourd, Cucumber, Capsicum, Okra, Carrot, Radish, Turnip, Beet, Bitter gourd, Pumpkin, Kundru etc.

Floriculture crops
Rose, Jasmine, Gladiolus, Lilium, Orchids, Anthurium, Chrysanthemum, Pansy, Marigold, Bougainvillea, Carnation, Gerbera, Calendula, Cosmos, Dahlia, Hibiscus, Palms, Crotons, Cactus, etc.

Grain, Pulses, and Oil Seed crops
Paddy, Wheat, Barley, Gram, Oats, Pigeon Pea (Arhar Dal), Chick Oea (Chana Dal), Black Lentil (Urad Daal), Green lentil (Mung), Red Lentil (Masoor), Baby corn, Sweet corn, French bean, Cluster bean, Mustard, Sunflower, Sesame etc.

Agroforestry & Bio-fuel plants
Poplar, Eucalyptus, Acacia Mangium, Melia Dubia, Bamboo, Subabul, Casuarina, Kadam, Agarwood, Sandalwood, Sissoo, Aonla, Jatropha, Karanj (Pongamia pinnata), Coconut, Areca nut, Date palm, Oil palm, Tea, Coffee, Rubber, Betel vine, Cashew etc.
Send Inquiry
Tips on getting accurate quotes. please include product name, order quantity, usage, special requests if any in your inquiry.